Fashion District & The Trampery present: Fashion Circle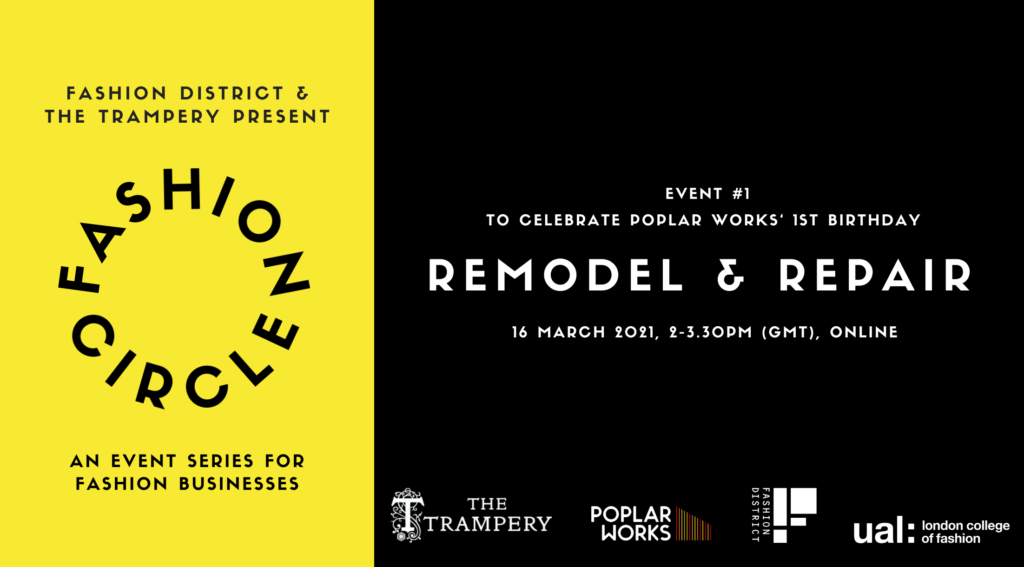 Join us at our new event series for fashion businesses. Launched as part of a day of events to celebrate Poplar Works' 1st Birthday, we will be kicking off the series with 'REMODEL AND REPAIR' to explore the growing interest in creating a 'KEEP IT CULTURE'.
Two fashion tech start-ups driving forward the 'Keep It Culture' will fuel our discussion. We will be joined by Nina Van Volkinburg, CEO and Co-Founder of RETURE, a digital platform that connects users with a network of sustainably driven fashion designers to upcycle underused garments. Nina will be accompanied by Poplar Works based designer, Joao Maraschin, who has also completed The Trampery's Sustainable Fashion Accelerator. They will discuss the benefits of upcycling as a means to extending the life of clothes whilst supporting independent creatives, and the importance of valuing the garments we already own.
Josephine Philips, the Founder of Sojo App, which aims to take away the hassle of repairing your clothes by providing an easy and effortless alteration service, will share insights into how research has sculpted their business journey, and their strategies for growth in a changing fashion landscape.
The Agenda:
Welcome: Helen Lax, Fashion District & Patrick Scally, The Trampery (5 mins)
Overview: Extending the Life of Your Clothes – Clare Carroll, WRAP (10 mins)
Remodel: Why Upcycling Matters – Nina Van Volkinburg, CEO and Co-Founder of RETURE & Joao Maraschin (15 mins with Q&A)
Repair: Alterations in the Digital Age – Josephine Philips, Founder of Sojo (15 mins with Q&A)
Full Panel Q&A and Closing Remarks: All Speakers (15 mins)
Speed Networking: Enjoy some digital match-making as you get connected with other event attendees on five minute intervals. (30 mins)
About the Panel:
NINA VAN VOLKINBURG is the CEO and Co-Founder of RETURE, the world's first upcycling marketplace dedicated to premium fashion. The platform connects customers to a global network of world class and emerging fashion designers to upcycle their underused garments into unique fashion pieces; giving old clothes a new lease on life. RETURE's mission is to make upcycling the most desirable choice for modern-day fashion consumption. The platform aims to preserve craft in the digital age; extend the life of garments; and rediscover our local communities.
JOAO MARASCHIN is a London-based Brazilian designer who launched his eponymous brand, following graduation from the MA Fashion Womenswear at London College of Fashion. Through many collaborations with artisans in underserved conditions, the brand gives renewed value to their practices and helps them protect their communities. By working only with recycled or organic materials, the brand is as aware of its environmental impact as possible. Maraschin was recently shortlisted for the Drapers Sustainability Awards 2021 and awarded a residency at Thread Senegal by the Anni and Josef Albers Foundation.
JOSEPHINE PHILIPS is the Founder of Sojo, a fashion-tech business that is working to make the fashion industry more circular by making clothing alterations and repairs an easy and hassle-free process. It does this by connecting customers to local seamster businesses through an app and bicycle delivery service so that people can get their clothes fixed, with a few simple clicks.
Celebrate with Poplar Works
POPLAR WORKS, a home for anyone working or training in fashion and making, is celebrating its first birthday with a series of online events to mark its impact since launching at the start of the covid-19 pandemic. Discover the full birthday programme running from 27 February to 16 March.