Petit Pli is based in the Fashion District in one of the new studios at The Trampery Fish Island Village. Ryan has been chatting to businesses thinking of applying for the Forge Fashion business support programme in Waltham Forest about using tech innovation to create sustainability. An unfolding success, the company uses aero-space engineering and design to tackle sustainability and push circularity in the fashion industry.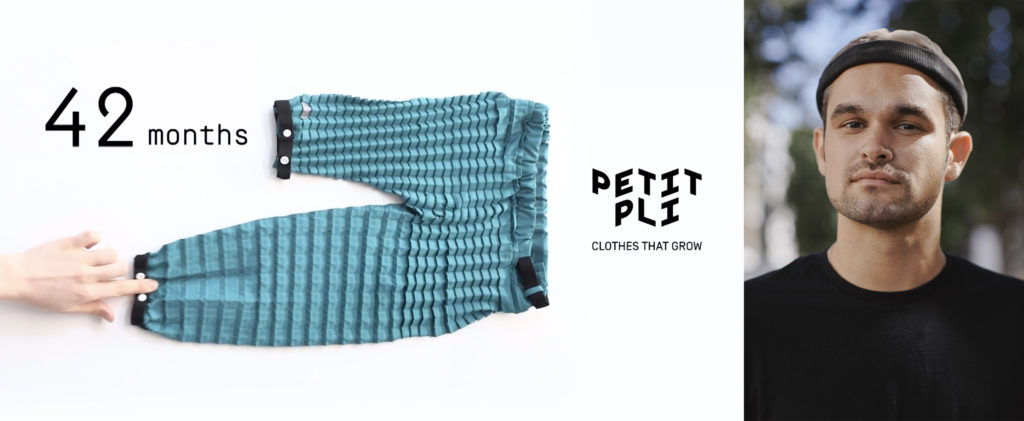 Petit Pli is a material innovation and Fash-Tech startup that creates clothes that grow together with children. Imperial College London and Royal College of Art graduate and trained Aeronautical Engineer Ryan Mario Yasin founded London-based Petit Pli in 2017, at the age of 23, while he was still a Global Innovation Design Student, with the vision of designing innovative & sustainable garments for our world's most extreme athletes: children.
His inspiration came from deployable nano-structure from satellites he worked on at Imperial, as well as his new-born nephew Viggo.
Children are extreme users of fashion, growing through 7 discrete sizes of clothing in their first two years. The design opportunity envisioned by Ryan was to embed to children's clothing a material that expands bi-directionally to fit little ones aged between 9 months and 4 years. Petit Pli's rainproof machine washable designs reduce waste, costs & pollution in childrenswear on account of designs being able to grow through 7 discrete sizes, streamlining the manufacturing process.
Combining design and engineering, Petit Pli adopted human centred design principles to draw upon prior research knowledge gained by Ryan at Imperial College London into origami & deployable structures for small cubesat satellites. After much R&D and product testing, Petit Pli's rainproof, windproof outerwear suits are now available to order.
Petit Pli's designs also work to reduce inefficiencies for retailers with respect to inventory size requirements and stock management efficiency. 40% of all e-commerce fashion is returned back to the retailer, the largest pain point being in size-discrepancies. Petit Pli aims to mitigate this inefficiency too to the benefit of retailers and the environment.
Petit Pli contributes to making the fashion industry circular and reduces waste by:
Reducing waste at production (fewer offcuts);
Reducing transportation (fewer sizes);
Sourcing & using recycled fabrics;
Keeping clothing in use for longer (Ellen MacArthur Foundation have identified that extending the life and use of clothes is one of the most significant opportunities the fashion industry has to reduce carbon emissions, waste generation and water consumption);
Inspiring the next generation to reframe the value of clothing;
Designing a solution that is more innovative, more sustainable and has high quality technical fabrics as children are extreme athletes.
Petit Pli is partnered with UAL's Centre for Fashion Enterprise Pioneer Programme, of which Bethany Williams is a member. Along with this, Petit Pli has won 11 awards which include Fast Company's 100 World Changing Ideas, 2019 Red Dot Product Design Award, 2017 UK James Dyson Award and recently beat Google for the 2018 Dezeen Award for Best Wearable Design.
Petit Pli has been working with NB Studio in London to develop a well thought-through brand identity and reusable, recyclable and gamified packaging.
To celebrate the launch of Forge Fashion, the new business support programme in Waltham Forest, Ryan was interviewed by Sarah Thirtle from Creative United UK. You can hear Ryan's approach to how he grew his innovative brand here.
Sustainability Facts
Children grow 7 sizes in their first 2 years. On average parents spend over £2,000 on clothing before their child reaches 3 years of age.1
In 2016, 30,000 tonnes of household clothing in the UK was binned.2
The total carbon footprint of clothing in use in the UK, including local and territorial emissions, was 26.2 million tonnes in 2016.3
Clothing underutilisation & fast-fashion's linear model of production has detrimental societal & environmental effects – Pulse of the fashion industry report estimated that the overall benefit to the world economy could be about EUR 160 billion (USD 192 billion).4
The Waste & Resources Action Programme (WRAP) and the Ellen MacArthur Foundation have identified that extending the life and use of clothes is one of the most significant opportunities the fashion industry has to reduce carbon emissions, waste generation and water consumption – extending the life of garments just by an extra nine months can reduce carbon, water and waste footprints by around 20-30% each and cut resource costs by £5 billion.5
Social Media
Facebook: @petitpli
Instagram: @petit.pli | Ryan Mario Yasin: @ryanmarioyasin
Hashtags: #petitpli #clothesthatgrow
Visit & purchase: petitpli.com
For more information, please get in touch with the Petit Pli Press team at hello@petitpli.com
References
1 https://www.aviva.com/media/news/item/uk-parents-spend-28-billion-on-nations-under-fives-each-year-17488/.
2 https://www.theguardian.com/environment/2017/jul/11/uk-households-binned-300000-tonnes-of-clothing-in-2016
3 http://www.wrap.org.uk/sites/files/wrap/valuing-our-clothes-the-cost-of-uk-fashion_WRAP.pdf
4 https://www.globalfashionagenda.com/initiatives/pulse/#
5http://www.wrap.org.uk/sites/files/wrap/VoC%20FINAL%20online%202012%2007%2011.pdf