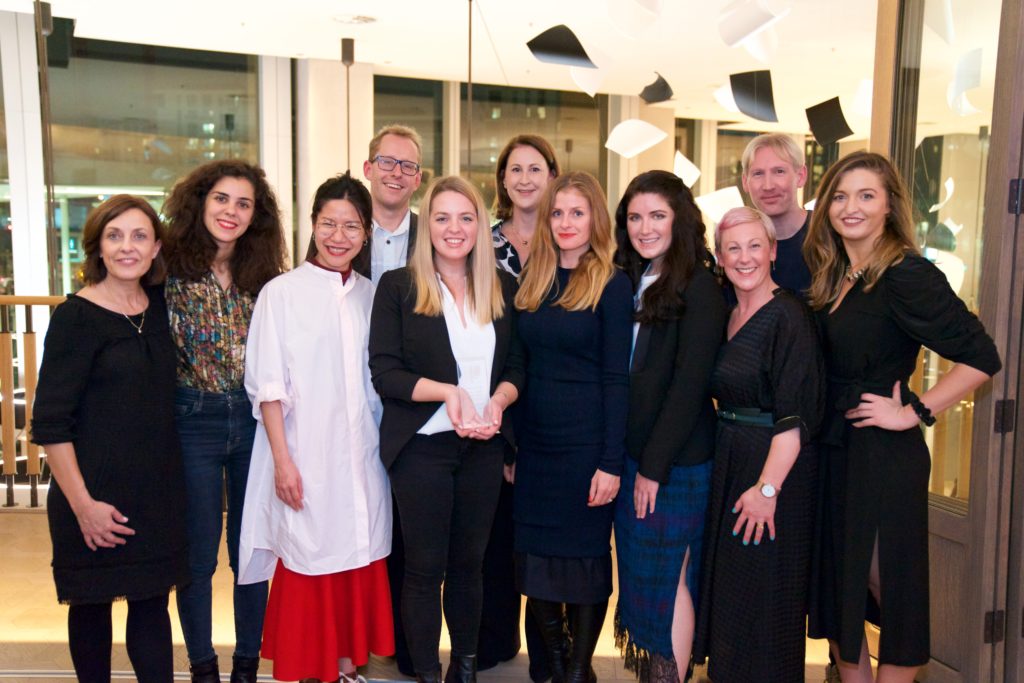 Sparkbox Wins Retail Futures!
We are delighted to announce the first prize for the Retail Futures Fashion District Innovation Challenge Prize 2019 was awarded to Lindsay Fisher, co-founder of Sparkbox, at the Fashion District Innovation Awards & Investment Supper held at The Stratford Hotel on November 5th, 2019.
Following an intensive pitch and interview process with over 60 entries, nine finalists attended the award ceremony last night along with the full judging panel; Myf Ryan, Chief Marketing Officer, Unibail-Rodamco-Westfield, Carol Hilsum, Director of Innovation at Farfetch, Richard Bonner Head of Store Development, John Lewis & Partners, Carien Beyer, Innovation Programme Manager from True and finally, Matthew Drinkwater, Head of Fashion Innovation Agency, London College of Fashion, UAL.
Myf Ryan, CMO Europe and Group Director of Brand and Strategic Marketing for Unibail Rodamco-Westfield presented the award to Sparkbox; a service that reduces stock, improves profitability, and helps retailers avoid over-discounting by optimising their pricing at the product level.

Unibail-Rodamco-Westfield is committed to innovating the future of retail and sponsored a £15,000 cash prize for the winner, alongside a 12-month membership with Stylus who provide essential consumer insight into the industry. After seeing such a high quality of entries across the board, Myf Ryan decided to award two runners-up prizes awarded to Joanna Chen from Gibbon and Taylor Semelsberger from Miro Solutions who were each given a £5,000 cash prize.
Myf Ryan of URW said: "It's been inspiring to hear such creative business proposals from the entrants. We're always looking to innovate the retail experience throughout our centres around the globe, as we continue to re-imagine the future of the retail environment to enhance the customer's journey and experience. All of the business plans proposed were excellent and promise to innovate the industry at different points of the retail supply chain, and we are proud to be part of and nurture this future talent."
Huge congratulations to all of the finalists who took part:
Duel is a SaaS platform which allows brands to create gamified advocacy experiences allowing their customers to earn points and rewards for completing tasks like referring friends, sharing data, social posting and creating user-generated content.
GIBBON is a circular economy rental platform that connects the excess inventory from brands and retailers to the travellers who need them.
Intelistyle is an AI personal styling app to help the 1 in 2 people that are looking for styling advice, online or in store, whilst helping fashion retailers increase conversion and basket size.
Loyalize is a payment solution which removes the need for carrying loyalty cards allowing retailers to attach existing loyalty programmes directly to the consumers payment card.
Miro Solutions is a Smart-Fit AI Software which takes the guesswork out of buying footwear online.
SKMMP is a centralised digital 24/7 wholesale showroom combining the tactile physicality of a showroom with pace of a digital online ordering platform.
Smartzer is a platform adding a clickable hotspots overlays to make videos interactive and shoppable.
Sparkbox is a SaaS AI platform helping retailers make the most of inventory they already own, offering on-demand price optimisation recommendations to reduce stock and improve profitability.
Superpersonal is the AI company behind the world's most advanced visual imagery, using the power of machine learning and neural networks to create unparalleled personalisation solutions.
Helen Lax, Director, Fashion District said: "The Fashion District Innovation Challenge Prize provides a springboard for tech entrepreneurs to trailblaze within the fashion industry. By creating a network of Fashion District innovators, we can test new concepts that have the power to disrupt the way retail does business and place London at the heart of global innovation."